I remember my dad and mom bringing donuts to Sunday school. They were my teachers in a couple grades. They were smart- the way to a pre-teen and teenager is through their stomach. Today, they have fancy dancy donut places that I only read about and am dying to try but sadly there are no fancy donut places near me.
Instead, we went to a huge red barn looking building that has a mega sign outside reading DONUT WORLD. Classy my people. Classy. They had the fake wooden siding, limited red vinal seating and cramped bathrooms. HOWEVER, they hand make their own donuts (you can watch the guy-which the girls liked) the most sweetest owner (yes I talked to him), cartons of milk, HUGE donuts the size of my head and honestly the best nostalgic feeling place. They had old pictures of Portland and it just made me smile. I just felt like I did when I would go with dad to pick up the donutsfor our Sunday class. Sweet memories.
Only it was 10am and the most liked donuts were gone. But there's no way I'm waking up this little lady to pick up a few donuts. Hah. Unless we are driving to an airport, we'll pick some up on the way. Yum. Hot fresh donuts. Great healthy breakfast.
My friend, Amy, and I went to Donut World with our girls. They got a little impatient waiting for me to fumble with the camera to take a picture of their donut they couldn't eat. Hah. It's not like they're 2 yrs old with a treat in front of them.
Emma and Rylee (Emma's best friend) had to have sprinkles. 🙂
Why do parents have the most boring donuts? I was looking forward to tryng some interesting ones but there were only traditonal ones. No Bacon Maple bars or Salted Apple donuts. Oh well. The girls didn't notice.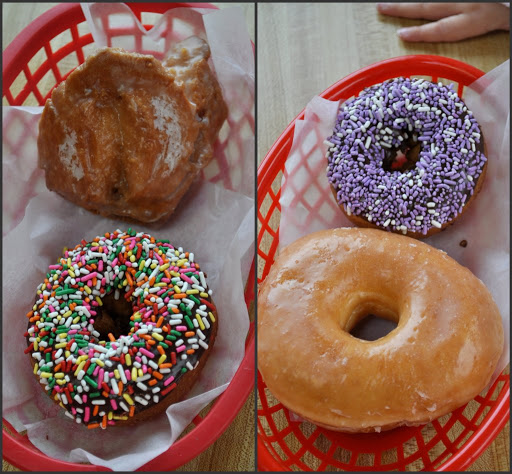 Here's Amy and Rylee. We'll so miss them while they're away! Her husband and her are looking into being missionaries to a country and are visiting this next couple weeks. Rylee is visiting Grandpa and Grandma in L.A.
And finally the after. Not much icing was left but a lot of the donut was. 😉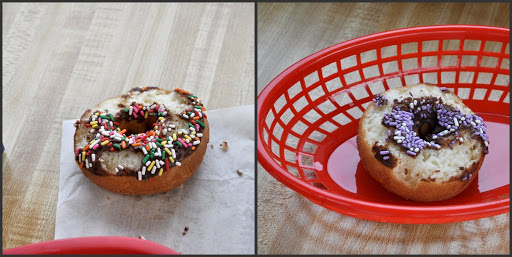 It seemed like the girls felt the sugar like imediatly! They were boinking off the walls! Here are some action shots 🙂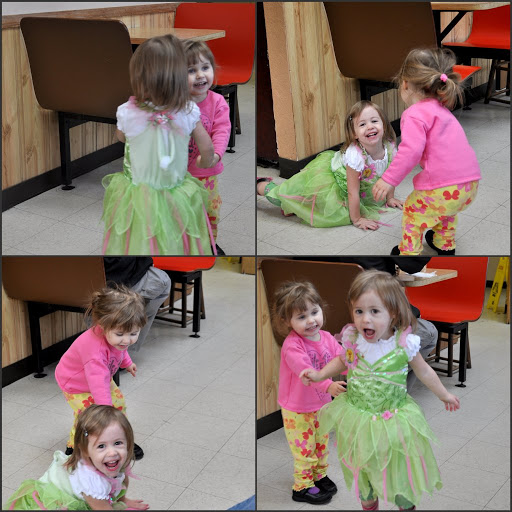 Then they crashed. Hahaha
Happy Wednesday Donut Day 🙂