OK, so we tried to go to the pumpkin patch with it's amazing pony and carnival rides but with only an hour till closing as we walked up- they wanted to charge is $82 buckaroos!!! I was like…'forget this!' and everyone else was debating it. hah. They actually wanted to charge little Emma $17 to go in0- adult price!
So instead we went to their pumpkin patch but didn't buy anything. They have a separate patch where it's mostly picked over. We were there only for pictures though so with that mindset we  were ok. Well most of us. Emma didn't get that memo.
Poor Grammy!
Once we got to the patch and pumpkins she started crying and telling the scarecrows to 'go away!' She was scared of them 🙁 But I was so proud that she used her words!
This was the best we could get of Gramps, Grammy and Emma. She wasn't going for picture time. But thank goodness Gramps acts silly around Emma! We were able to get a great family shot!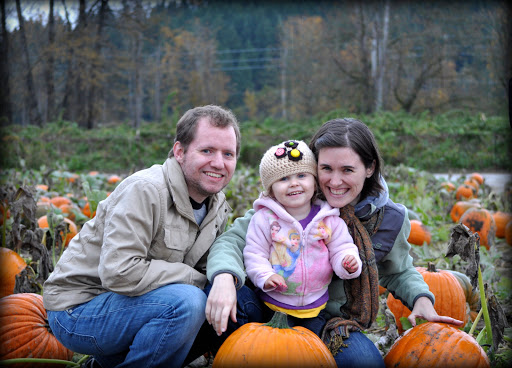 Love her hat. I got it from a friend and I added the buttons. 🙂
And finally, Emma was into a smile phase for 3 min and I just so happen to be holding her.