So I'm totally frustrated right now cause Picnik isn't working and I'm not able to edit any pictures of the beach. *breath and close my eyes….so all but the last two pictures are unedited.
*****
Yesterday started with me waking up to Emma WAY too early on a Sunday morning. We were looking forward to hopfully sleeping at least till 8am. Wishful thinking on our part. So while I'm downstairs feeding her I got the idea that we haven't been to the beach as a family in like…well forever! So I run upstairs (Trav is still in bed-not asleep but protesting getting out of bed early. At least he has that freedom) and explain how much fun it would be to visit the beach. He agrees and I'm off packing sack lunches (we're broke) and I'm giddy thinking about the typical beachy things to do.
We went to Cannon Beach on a perfect day. It wasn't windy or cold! We even saw a wedding in progress on the beach. 🙂 Haystack Rock was clear and yeah, we were so happy to have gone.
But there was a problem. It had entered my mind as we were driving there but I quickly dismissed it, but it came true.  This was Emma's first time where she was able to really interact with the beach and "enjoy" herself. Sadly, she wanted nothing to do with it and the feel of the sand or water freaked her out. So She clung to Trav or me the whole time. Acting like a monkey. We tried hanging out with other little kids so she could see that the beach isn't evil and playing in the sand isn't torture. She still hated it. Sad, but next time we'll try it again and see how she does.
Heck, the grown ups had fun! Trav and I wrote in the sand, dig a little with Emma's shovel and took pictures. At least we enjoyed ourselves. 🙂
******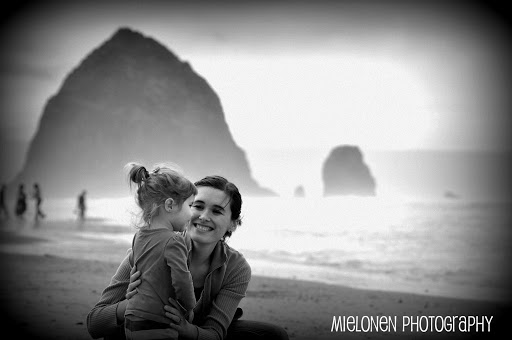 ******
OK, those 2 were obviously photo edited. Wish I could have done more. I hope it works later today.
So we after the ebach we went and walked around town. Adorable, if you get the chance to go- take it! They had tons of my favorite flower- poppies!
They have lots of great little restaurants to go to. If you're not from Oregon, or even if you are, take a trip to the Oregon Coast. Not only is the scenery amazing but the foods pretty good too! 🙂 Like AMAZING. But since we took our lunch yesterday, we went out for ice cream and coffee. But it was SO tempting to go out and have some chowder or fish and chips.
Trav got an iced Chai and the German Chocolate Cake ice cream (from Tillamook). Looks really good huh. 🙂
I got the Bubble Gum ice cream. This was the only picture I got of mine. Emma had a childs scoop of double chocolate fudge. Lol. We were walking through the line and she starts yelling out "Chocolate! Chocolate!" hehehe I guess she has her father's taste buds for sweets.
******
Hope you had a good weekend. Here's to starting each day this week already believing it will be a good day.
You have been warned…We went to the beach this last weekend. Here are some pictures. It was a fun weekend with friends, annoying whistling toys and lots of food. Took too many pictures and will now have to go through tons,and keep only a few. Hate that.
I'm busy hanging out with my sister while she's in town, love it when she's here.